Subscribers are at their most engaged within the first few weeks of signing up to an email program.  After all, they have just given you their email address and permission for you to email them.  Before you pull them into your regular communications program, the best thing to do would be to send a welcome email or series of welcome emails to introduce them to your brand, build engagement, and start driving revenue through your email marketing program.
There are six important goals of a Welcome Program:
Welcome your new subscribers immediately.
Educate them on your brand.
Outline the benefits of your email program.
Set expectations on the types and frequency of emails you will be sending.
Encourage them to add your email address to their address book for improved deliverability.
Drive revenue
And here are some tips for a successful Welcome Program:
Have the "From" field be your company name to ensure subscribers recognize who is sending the email.
Personalise as much content as you can; e.g., use a subscriber's first name, but also try and utilize any of the other data you captured at registration.
Send the first welcome email within 24 hours of subscribing though, ideally, it would be best to send immediately.
Incentivize the Welcome Program with offers to encourage conversion, but don't discount too much – you may risk conditioning your subscribers to expect discounts from you all the time.
Ideally, send a series of emails and gradually build a relationship with your subscribers before they start to receive any other scheduled communications or ad hoc offers.
Test! Don't just set and forget. Test the subject lines, content, and day and time emails go out to ensure you continuously optimize your Welcome Program.
Examples of Good Welcome Emails
These two retailers know how to do it right. Take a look – do your welcome emails work this hard to engage new subscribers?
The email clearly identifies that it's from Harvey Norman and is sent immediately after sign-up.
Using the subscriber's first name along with a thank you offer builds a relationship immediately.
The email articulates the benefits of signing up and sets expectations for subscribers as to what they will be receiving.
The offer is sent to the subscriber with a dynamic timer, creating a sense of urgency to drive conversion.
"From" name and address clearly identify the sender, and the email is sent immediately after sign-up.
The email subject line welcomes the subscriber and articulates the offer.
The offer is provided with an expiration date to create urgency and aid in conversion.
The email is well designed with examples of the types of email campaigns the subscriber will receive.
A clear link to the preference center encourages subscribers to provide more details, which will then drive a more relevant – and profitable – email program.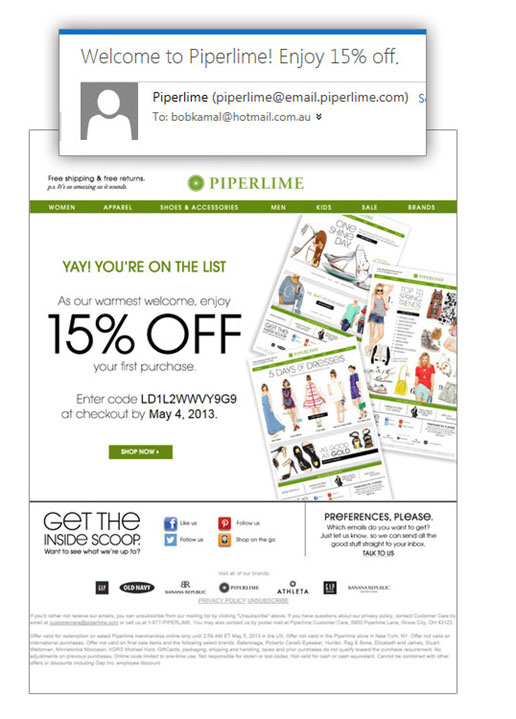 Have you received a welcome email that really made you feel welcomed and engaged – or one that made you immediately regret your decision to opt in? Please share examples below.