Re-engagement emails are an effective strategy to target subscribers who may have lost interest, changed their preference for communication or are no longer interested in your offerings. Not utilising this method of engagement could harm your deliverability and perceived 'spam' factor – as well as losing the opportunity to re-connect with those subscribers who may still be interested in your offering and need a bit of engagement and incentive to revisit your brand.
Winning back the attention and engagement of subscribers can be done through a number of methods, creatively and strategically. It can also be done as a one-off automation tool – combatting those who have not engaged in 30, 60 or 90 days (or any other particular time frame), as well as set off a drip series of emails to drive engagement, refresh the brand experience and ultimately drive revenue – particularly in the retail industry.
Important things to consider when planning your re-engagement strategy include:
Content
Considering you are targeting subscribers who have not opened your emails in a while, the content is an important way of standing out from the usual emails, and ensuring it is worth engaging with! Paramount to this is utilising personalisation, in the automation sense of using a name and dynamic content, such as their demographics or previous purchasing history. Further, you can use this unique content piece to offer different content than usual, and successfully understand changes in interests, demographics or preferences. Also – it's a great chance to talk about the new and exciting things you have going on, perhaps opening a door to areas of your online business that they hadn't known about previously.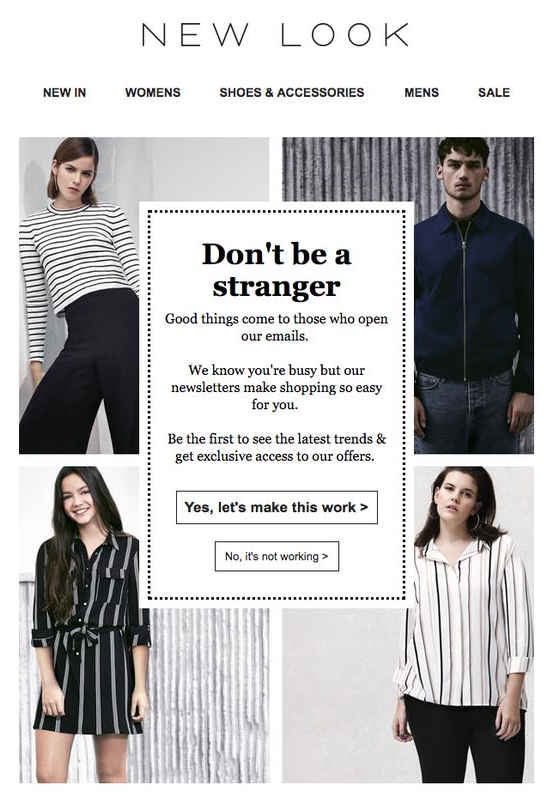 Incentive
A common facet of re-engagement strategy is to include a personalised offering as an incentive to open, click through and re-engage… beginning the customer lifecycle all over again. This avenue can be highly successful – particularly in knowing whether they are at all interested in your product offering and consequently worth keeping on your subscriber list and actively engaging with. As seen in the examples below, a little offering can go a long way in getting your subscribers back on board.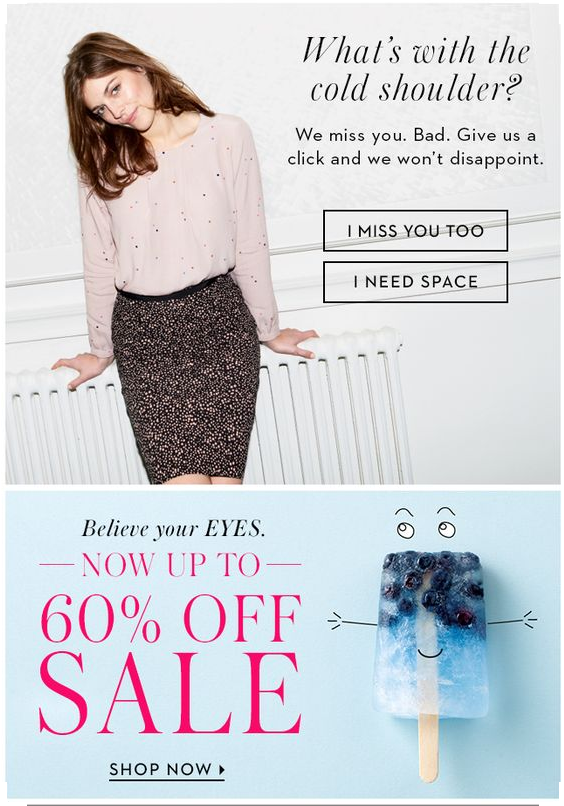 Preference Update & Choices
One aspect of the re-engagement email is the opportunity to understand why the subscriber has not been opening, clicking or interacting with your emails as of late. As mentioned earlier, this provides an opportunity to either re-engage or to clean up your list and allow them to opt-out before your brand becomes associated as spam, or your deliverability suffers. As seen below, the creatively and friendly offerings of shopping, re-opting in, opting-out or changing preferences are a good way to leverage the channel to ensure you are sending the right emails to the right person.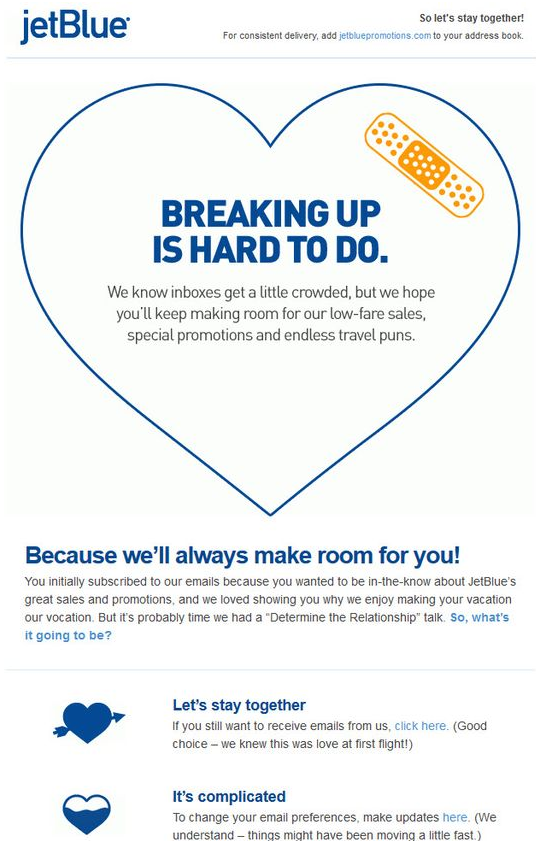 Have you ever re-engaged with a brand because of an email? Do you appreciate being asked about your preferences for communication?