With over half of email marketing campaigns being opened on mobile devices, it is of no surprise that the focus on mobile marketing has been steadily increasing within the digital marketing space over the past decade. There are numerous benefits to implementing SMS Marketing, and most importantly, in doing it effectively.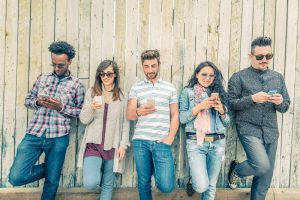 1. Ensure your subscribers have opted-in!
As with email, it's always important to ensure you have subscribers opt-in to receiving SMS marketing promotions and communication. Being honest about how you use this platform, can sometimes be the difference between setting a good tone with your customer or driving them away.
2. Timing is everything
As with all marketing, timing can be fundamental to your message being seen, read and acted upon. Considering that 98% of SMS marketing messages are opened, ensure that the tone of your message, whether it be promotional, informative or brand based – is going to be received positively, and acted upon.
3. Know your offer
SMS Marketing is greatly effective for sale campaigns, especially when you are targeting customers who sign up for your sale posts specifically, or customers with shopping behaviour which reflects this sales-only focus. It once again ensures that your marketing is personalised, relevant and utilising the data you have available.
4. Don't abuse the high open rate
With the average adult checking their mobile phone over 150 times a day, it may explain the high open rates of SMS marketing, with 98% being opened. However, while these are staggering figures – you still need to be mindful of ensuring your messages are engaging with your audiences, and reflecting upon your brand positively. Messaging too much may dampen this relationship – so ensure you are personalising the content to send out things that the customer wants to see. Further, using this medium as a level of urgency and exclusivity is even better – whether that be in segmenting who receives the message and when – such as a way of offering exclusive offers, timely reminders, or a special occasion message (such as a birthday wish!). Sending a generic message, and not utilising the data you have, may lead to an SMS marketing message being mistaken as spam.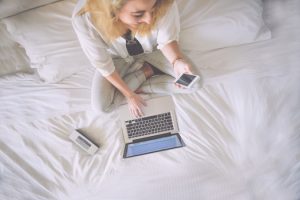 5. Signify urgency
An SMS message is a different style of marketing, and whilst it is a highly innovate, effective and proactive element of a dynamic marketing strategy – it often signifies urgency in the immediacy of its nature. Therefore, it can be great to leverage off this by using it specifically for those urgently desired sales, or urgently important information. Perhaps the discount code you sent via email is about to expire? Perhaps the sale items in their cart are low in stock? Or a one day sale is about to open, and they are the first to know?
6. Be direct or get creative
You have 160 characters to get your point across, which can be highly effective in itself, as twitter has proved. And if this doesn't suit, why not get creative? Add a GIF, a video or another form of visual media that would be more of interest. When you consider the rise of snapchat as a medium, particularly in those aged 18-35, and its recent adaptation by Instagram, short videos can make a strong impact on brand recognition, customer relationships and driving revenue.
7. Track your click-throughs and data!
Another benefit of SMS Marketing is in its traceability so that you can track all of your campaigns and customer data. This will inform your overall digital marketing strategies, as well as being able to export the data for other uses across your business and for reporting. It will further help you in tracking the behaviour of your customers across the lifecycle, and inform you on what marketing strategies are working and when.
8. Start a conversation
Interactive SMS Marketing is important in starting a dialogue and conversation with your subscriber. This can build trust, drive brand engagement and foster strong customer relationships between the brand and customer.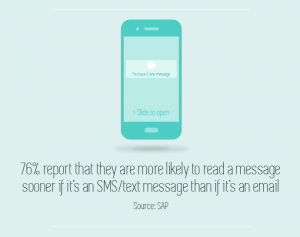 9. Drive them in-store
Whilst mobile users generally may also be more likely to engage in online browsing and purchasing, SMS marketing has a powerful way of driving the in-store sales. This is where the data is important – in ensuring your messages are personalised based on membership programs, location, age and previous buying habits. Ensure that the store they are being directed to, is in fact their closest store or preferred store, and also a mode of shopping which is somewhat preferred by them. This could be a way of filling the gap between those who click-through from your emails, and those who would rather shop in-person.
10. Know why you are sending it
Choose where and when to use SMS marketing as well as the tone for your brand. Do you want to be tied exclusively with sale offerings, or are you more focused on the personalised aspect of offering a level of customer service and brand engagement through the SMS platform? Are you hoping to drive online or in-store sales? All of these things are important to ensure that SMS Marketing is used to enhance your overall marketing strategy as consistency is often key.
11. Personalisation
As with emails, offering Dynamic Content is always important. You can personalise it by addressing by name or demographic including age group, location or gender. For example, setting up an automated message on a customer's birthday may be a friendly, considerate and unexpected addition to your triggered email. It may even offer a coupon, or incentive to come in store. It also engages with the customer, leaving a positive interaction and level of brand engagement. This exemplifies one of the simplest, and most effective, areas of SMS marketing.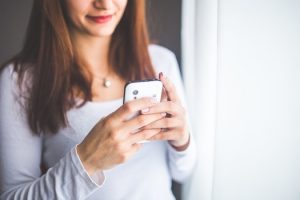 12. Know your demographic
Those between the ages of 19-45 are more likely to engage in the mobile platform, as well as click-through and access such areas as reading articles/e-commerce on their mobile phone. However, what about those in a demographic that are more likely to purchase in-store and are perhaps more infrequent email openers? Perhaps, the simplicity and immediacy of email – particularly if they are less likely to subscribe to numerous accounts, but rather ones they intimately know and trust – is highly effective.
13. Enhance privacy and deliverability 
Does your business or brand deal with areas which are private, confidential or greatly important? This could include medical services, insurance or banking to name just a few. Sending an SMS can be a helpful, informative and direct way of ensuring you are in contact with the customer, and keeping them informed. It can also feel more private and secure, such as a link to the password protected site. This is particularly effective in terms of appointment reminders, special offers or upcoming notices including bills, statements or expiration notices.
14. Create automated and triggered messages
Just like email marketing, creating automated and triggered messages saves a lot of time and expenses – whilst ensuring a speedy and personalised message is delivered to the subscriber. It also relies on the same principles of personalisation in ensuring you are sending content that is specific to the data, and preferences, of the customer. Another example of this is the use of SMS Marketing in the real estate industry – ensuring that those looking for houses in a certain suburb are reminded of the open houses for that morning. Simple, effective, relevant and helpful for the customer, and a positive engagement between the brand and the customer.
15. Integrate with your other platforms
Syncing your SMS platform and data with your other platforms is another way that SMS marketing is a seamless facet of your overall marketing strategies and success.
Ready to start sending SMS Messages?  Check out our powerful, fully integrated SMS Platform here.